Services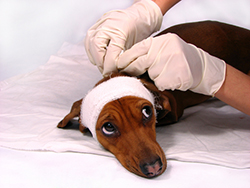 Looking for veterinary services in Monroeville, AL?
Since you pet has a shorter lifespan than their human companions, we stress the importance of an annual physical examination. Thorough check-ups and preventive care can help alleviate serious health problems. We offer a wide range of veterinary services to keep your companions feeling their best:
Diagnostic and Therapeutic Services:
Our hospital is equipped to provide diagnostic and therapeutic services to care for your pets' complete health care needs.
Surgical Services:
Our state-of-the-art surgical suite provides for the performance of a wide variety of surgical procedures.
Anesthesia:
We utilize the safest available anesthetics to provide an extra margin of safety, especially for our older or high-risk patients. Using an EKG, automatic blood pressure apparatus, respiratory monitor, pulse oximeter and most importantly an assistant to constantly watch over the patient, the patient's vital signs are constantly monitored during all anesthetic procedures. IV catheters are placed and intravenous fluids administered during the surgeries.
Radiology Services:
Our on-site, modern X-ray equipment provides high quality radiographs to aid in the quick diagnosis of many disorders.
Electrocardiography Services:
We provide ECG services on-site as well as consultations with cardiology specialists.
Dentistry:
Our dental services include teeth cleaning and polishing, tooth extractions and minor oral surgery. Referral of more complex dental cases are available to board certified veterinary dental specialists.
Laboratory:
Our in-house laboratory facilities provide for serum chemistry, Photo1 hematology, serology, urinalysis and parasite testing. This can allow us to get results back in hours instead of days.We also utilize commercial veterinary laboratories for specialized diagnostics and consultations.
Permanent identification:
We offer microchip implantation. The fee is $25.00 which is all inclusive including implantation of an AKC chip and lifetime registration. The entire fee goes to the Monroe County Animal Shelter.
Pharmacy:
We maintain a complete inventory of pharmaceuticals, vitamins, shampoos, flea and tick control products and heartworm preventatives to meet the needs of your pet. We also carry a full line of prescription diets.
Individualized Flea Control Programs:
We develop programs for the specific needs of your pet and your own particular environmental situation. We will review with you the best ways to control fleas in your house, in your yard, and on your pet.
Boarding:
We provide pet boarding as a service to our clients. All boarders receive personal attention from our caring staff. Reservations are suggested. Pets may be dropped off and picked up during regular business hours Monday through Friday and other arrangements possibly may be made in advance.
Bathing:
Routine and therapeutic bathing services are available.
Emergency Care:
We offer emergency care for our patients. Our main telephone number is answered 24 hours day. Since this is a solo doctor practice, it is not possible for Dr. Grider can always be available. One such occasions, we will have a veterinarian at another clinic available.